Why do I have a double chin?
Having a double chin can come down to a variety of reasons. It can be the by-product of a hormonal imbalance or simply due to your genetic makeup. 'Submental' fat can also develop due to posture.
A question we regularly receive at Dr Salon is, how can I get rid of my double chin with the least amount of pain and without having to resort to invasive and painful surgery.
Thankfully at Dr Salon Lipodissolve is an innovative solution that has helped many of our patients reduce the appearance of a double chin and create a more youthful aesthetic. Upon consultation with our team of medical experts, this non-invasive treatment might just be what you have been looking for, to permanently reduce the appearance of a double chin.
What can I do about it?
Up until recently, the most well-known methods to combat a double chin have mostly been invasive surgical procedures such as liposuction which can be painful and take weeks to recover from, or rigorous exercise which is unrealistic to some and has no guarantee of improvement.
The problem with these methods is that they are unpleasant, or the effects just don't last unlike our fat dissolving double chin treatment. At Dr Salon we are helping many of our patients to achieve a permanent fat reduction, with minimal down time and lasting results.
What is Lipodissolve?
Lipodissolve is a breakthrough injectable treatment that targets and permanently eliminates fat cells, and yes, this amazing technology offers a permanent reduction of fat cells. This helps us assist our patients in generating a more refined and youthful looking profile.
HOW IT WORKS
Lipodissolve uses a non-surgical injectable technique where we perform a series of injections into the double chin fat which then proceeds to gradually destroy the fat cells in the intended area. Permanently!
The Lipodissolve injections contain deoxycholic acid which is a naturally occurring acid found in the body that is used to absorb the fat from food. When used in small doses injected into target areas, it works in a similar way by dissolving the submental fat cells.
HOW DO I PREPARE?
Very little preparation is needed other than avoiding anti-inflammatories a week prior to treatment as they can potentially elevate the risk of bleeding during treatment.
Upon consultation with one of our friendly medical professionals at Dr Salon you will be provided with a treatment plan to assist you in achieving your desired result and information regarding how many treatments you are likely to require.
IS IT PAINFUL?
Lipodissolve is not a painful procedure however may be uncomfortable for the days to follow due to the amount of swelling that will occur, directly post treatment. You may feel a slight pinch when the injections are being administered.
Because the procedure doesn't require any incisions the pain is minimal, and the recovery is quick in contrast to surgical methods. Short-term swelling, redness and in rare cases bruising to the treated areas can occur but are temporary and resolve within a matter of days.
WHAT ABOUT AFTERCARE?
Like any cosmetic procedure, a level of post-treatment care is necessary to get the best results and to avoid any unwanted side effects.
Be gentle with your skin after treatment as your skin will be swollen and sensitive.
You may apply cold compress to the area to alleviate discomfort.
Avoid rubbing the treated area and do not apply makeup or skincare post procedure.
Avoid showering or washing the affected areas for 12 hours after the procedure.
Avoid exposure to the sun or excessive heat for at least a week afterward as this can cause post-inflammatory hyperpigmentation.
Drink plenty of water in the days following the procedure and ideally avoid alcohol.
Our experts at Dr. Salon will inform you of all the dos and don'ts that follow your treatment.
How often do I need Lipodissolve?
The frequency of sessions will depend on the extent of the double chin and the level of results you want to achieve. On average, treatment is administered every 6 – 8 weeks and the treatment will take place in under 30 minutes.
The periodic nature of the procedure gives enough time for any swelling that may occur to subside and for your skin to regenerate adequately. It will also give us a good indication of how well you respond to treatment allowing for a more accurate treatment plan.
How will Lipodissolve benefit me?
Eliminating a stubborn double chin that won't respond to other treatments or exercise can be emotionally as well as visually gratifying. The benefits can not only be measured aesthetically but also internally as the goal is to look great AND feel great.
Some of the medical benefits are:
Non-surgical procedure for those who want to avoid going under the knife to look good.
Recovery time is much faster than liposuction as it is a non-invasive treatment.
The treatment takes effect immediately and results are usually visible within a week once swelling has subsided.
Can be used as an effective targeted spot fat reduction method to eliminate stubborn fat cells.
Some other benefits are:
Cost-effective. A much less expensive fat reduction treatment than liposuction.
Time-efficient treatment sessions will often have you in and out around 30 minutes.
Once the fat cells are targeted and dissolved, they are eliminated offering a permanent fat reduction solution.
Patients notice a more contoured neck and jawline, resulting in a more youthful aesthetic.
How much does Lipodissolve cost?
Each patient is evaluated on a case-by-case basis to assess how much fat they have in the neck area and the results they want to achieve. This will assist in determining how many treatments are required. Upon consultation with our team of injectors, a treatment plan and associated costs will be outlined for you.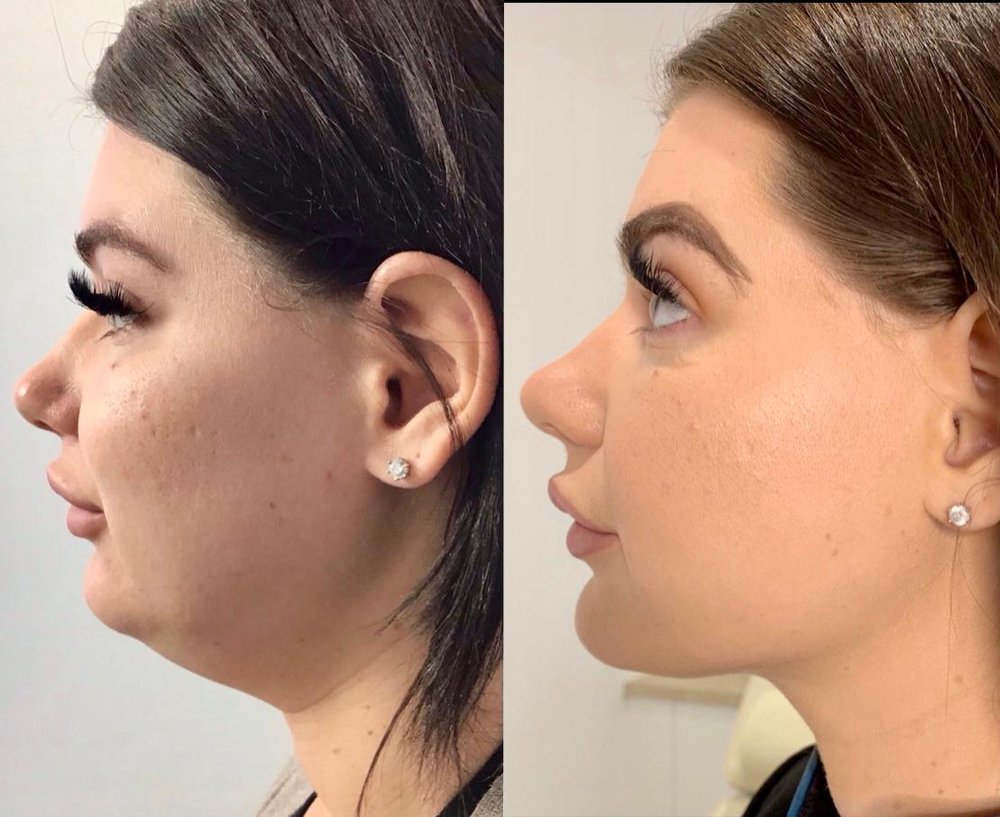 Is Lipodissolve safe?
The procedure has gained immense popularity and is recognised as a safe and effective treatment when administered by a highly skilled and qualified cosmetic injecting professional.
With thousands of successfully treated patients worldwide and hundreds of studies recommending Lipodissolve as the safer alternative to liposuction, it is fast becoming the most popular and easiest way to reduce the appearance of a double chin.
It is important to note that cosmetic injectables can only be administered by an authorised practitioner. You can rest assured at Dr. Salon our qualified and highly skilled team of medical specialists lead by Dr Tammy Tai, will always put your health and safety first.
Defeat your double chin forever
For an effective, economical, and permanent way to rid yourself of that unwanted double chin without having to endure the discomfort of invasive surgical methods, Lipodissolve is a safe and effective option to assist you in achieving your aesthetic goals.
Want to know more? Call us today to make an appointment for a complimentary consult with one of our aesthetics experts.
We look forward to welcoming you to Dr Salon.